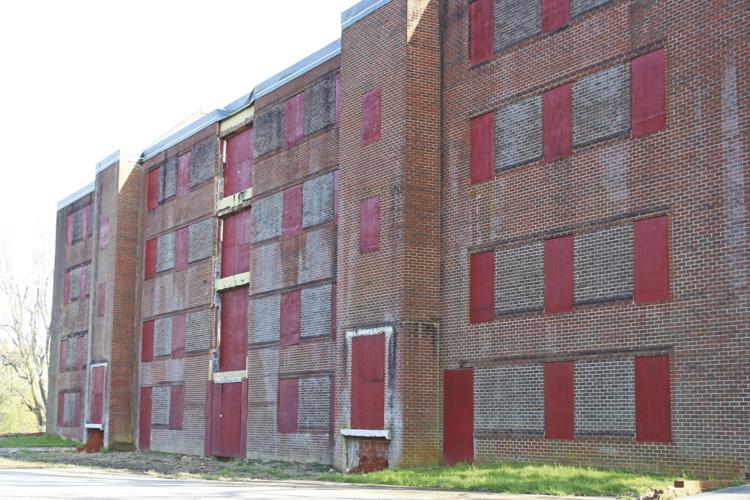 The shock is starting to wear off and fear is settling in for Hiwassee College students, faculty and staff after the college's Board of Trustees voted on Thursday to close the college at the end of the spring semester.
Former State Rep. and retired McMinn County Schools Director Dr. John Forgety just recently came on the Board of Directors for Hiwassee College. He described the scene as an emotional one when the vote to close the college was made.
"It was a very tearful setting," he said. "It was a very tough vote."
According to Forgety, the vote passed unanimously from those who cast a vote. One board member abstained from voting.
Hiwassee College has been a staple in Monroe County for 170 years. May 10 will signify the end of an era when the college's last graduating class will participate in commencement ceremonies and the campus will close. The final graduating class — the Class of 2019 — will be made up of 33 graduates, 23 receiving bachelor's degrees and 10 earning an associate degree.
"We are proud of our historic mission of educating students for 170 years in the United Methodist tradition of John Wesley," Hiwassee College officials wrote in a press release on Thursday afternoon. "Many of our alumni pursued additional education to become pastors in several conferences, as well as other denominations, teachers in our schools, pharmacists in the region, and community leaders across the nation. Hiwassee College's legacy will survive through those who attended the college and who continue to lead and serve."
Hiwassee College President Dr. Robin Tricoli said growing marketplace trends, including substantially discounted or highly subsidized public education, changes in demographics, the college's rural location and declining enrollment all combined to produce an unsustainable economic model. The college's current equivalent full-time enrollment is 225 students.
"Our campus community is a top priority at this difficult time so we will work diligently to assist students to transition to other institutions and to serve as references for faculty and staff seeking career opportunities," wrote Tricoli in the press release. "We are truly grateful to everyone who has worked so faithfully in service to our mission of Christian education and to our dedicated and faithful donors who have enabled us to grow and sustain our beautiful campus."
"The Holston Conference of The United Methodist Church, the community, our alumni, and this region have all been a vital part of supporting our mission and campus," she continued. "Our faculty and staff have been supportive through the years and we are grateful for their commitment to Hiwassee College and Christian higher education. We wish to thank all of those whose prayers and support have been meaningful for so long."
Students and faculty were notified immediately following the vote. An email was sent out to students a little after noon on Thursday about a called school-wide meeting in the auditorium.
Twins Cameryn and Kristyn Kiser, sophomores at the college, did not receive the email in time to attend the meeting, instead learning of the decision from one of their friends.
"Initially we just didn't know what to think. We kept asking, 'Are you sure? Are you serious right now?' We just couldn't believe it," said Cameryn Kiser. "We were planning on graduating from there, and now we're worried about graduating from college at all."
"Once it settled in, the panic set in," added Kristyn Kiser. "We aren't sure what will happen to those of us who aren't graduating this semester. There has always been some fear about credits from Hiwassee transferring. We hope they will. But to be honest, we don't really know what we're going to do right now."
The twins, graduates of Sequoyah High School, say they plan to finish out the semester and will try to figure out a game plan for their future with little known facts right now to help them in moving forward.
For Hiwassee student and baseball player Riley Turpeinen, a 2018 graduate of Sweetwater High School, the devastating news of the college closing came too soon.
"I left Volunteer State in Nashville to be closer to home and to become a Tiger this past January," he said. "Hiwassee welcomed me with open arms and I've met so many new people and have made so many new friends through the college and baseball team. Knowing that after just a short period of time that it's all coming to an end, and that I'm back to square one, it just hurts. Not only for me, but all of our sports teams, coaches, faculty and staff who have worked so hard to ensure that we, as students and athletes, can succeed not only on the field or in the classroom, but in life as well."
"It all came crashing down so fast," he added. "I hope and pray for nothing but the best for everyone who is a part of Tiger Nation moving forward."
'A shock to us'
News of the college's closing spread like wildfire after the vote, as people from all across Monroe County took to social media to express their feelings.
"Memories flood my mind each time I think of Hiwassee College," said Priscilla Gregory, a longtime educator in the Monroe County School System who entered Hiwassee in 1978, attended for a year and a half before taking a break to get married and have her children, returning to graduate in 1986. "Dorm life, dedicated instructors and staff, and lifelong friendships were rooted there. Three generations of my family attended Hiwassee. When gathering with local educators my age, I see so many familiar Hiwassee faces. I'm deeply saddened to hear that it will be closing."
A&W of Madisonville owner Scarlett Moser reflected on her years at Hiwassee as well.
"I was the class of 1993 and my mom was the class of 1952," Moser told The Advocate & Democrat. "Mom has told me countless stories about how she and her brother would walk from their home in the Rocky Springs area to town and catch a ride with Gene Sloan over to the campus. My husband's father also taught over there in the 1960s."
For Moser personally, she was married with three children, all under the age of 3, when she began to consider Hiwassee College.
"It started out being the only logical choice for me, but ended up being a school I loved," she said. "When I started, I went to the financial aid director, who was Mr. Hemphill at the time, and told him about my situation with small children and the need for a sitter. He told me he would find some scholarship money to help, and he did! He made sure there was $40 waiting in the Business Office for me on Fridays. The education was the best. I had been out of high school for seven years so I was rusty on a few things, but the professors were so helpful. They truly led by example and prepared us for the next step in life."
Hiwassee alum William Blackwell, class of 2007, said he learned his self-worth while a student at Hiwassee.
"I learned to fight through obstacles while going to this school," he said. "By not accepting what doctors told me and my parents regarding my intelligence. I became the first member of my family ever to receive a college degree when I was supposed to be 'the stupid one.' I will dearly miss its presence. Thank you for the opportunities and milestones in my life that your education provided to me."
Former Hiwassee College faculty member Micah Montague was deeply saddened by the news of the college's closing. Montague started teaching theater at Hiwassee in 2001, remaining for five years before joining the Peace Corps. He returned to the college in 2012 and stayed until 2017, producing around 25 productions in the roughly 10 years of his tenure at the college.
"I remember the last production we did, 'Much Ado About Nothing.' It was on the quad and it was probably the best show I was involved with there," he recalled. "We were in our last performance of it and there was about 30 minutes left in the show. We were at the bell tower and the actors noticed this ominous thunderstorm approaching. The audience was faced away from it and didn't see it coming. But the actors did. We had just finished the performance when a downpour started. That's probably one of my most vivid memories. Looking back, it could have been a symbol of what was to come."
Montague, however, has hopes that the college will be able to find its way back.
"I hope that at some point in time it is able to find a rebirth," he said. "I don't know what that would mean or if it would still be a Methodist institution, but there is so much potential there. It's a benefit to the community and its people, and means a lot to so many generations."
The loss of Hiwassee will be immediately felt across Monroe County. Monroe Area Council for the Arts (MACA) had a long-standing partnership with the college, hosting a series of concerts and other events in the campus' Performing Arts Center. With the college closing, MACA must now find a new venue to continue its own Performance Series and other programs.
"We aren't sure at the moment what we will do," said MACA Administrator Rebecca Inman. "It's a shock to us. We are definitely going to have to make some adjustments. We just aren't sure what will happen."
Like MACA, Upward Bound and Educational Talent Search are left wondering where to go from here as both were housed out of the college's campus.
How it got to this point
The road to Thursday's final decision to close Hiwassee College has been a long and winding one filled with ups and downs. The creation of community colleges a half century ago changed the recruiting dynamics for Hiwassee.
Perhaps one of the worst more recent blows came in 2003 when an announced major donation to the college that would have totaled in the millions of dollars failed to come through. Then, in December of 2004, the Southern Association of Colleges and Schools' (SACS) Commission on Colleges (SACSCOC), citing financial problems at the school, voted to remove the college's prestigious accreditation. Hiwassee College sued SACS in federal court to try to get their accreditation back, but lost the case and the subsequent appeal. Hiwassee never fully recovered from the loss of SACS accreditation, which is the regional accreditation most important to colleges and universities in the area.
At one time, enrollment for the once proud college fell to just a few dozen students. In 2009, Hiwassee earned accreditation through the Transnational Association of Christian Colleges and Schools (TRACS) and its enrollment gradually continued to climb though never reaching peak enrollment again.
Over the years, Hiwassee began to see great success in several sports, heavily recruiting local high school athletes, keeping many student-athletes close to home and breaking school records. Hiwassee's dental hygiene program began to soar, becoming one of the most popular degree plans on campus. The college also added four-year degree plans to create a better, local option for students.
But in 2015, the Monroe County School System ended the long-term partnership it had with Hiwassee College to supply dual enrollment classes to high school students, choosing instead to partner with Cleveland State Community College after long discussions about credits transferring properly from Hiwassee College and the college not having regained its SACS accreditation.
At that time, Dr. Tricoli said the college had submitted its SACS application on Dec. 1, 2014, and that a SACSCOC review team would visit in the spring of 2016. But as of this month, the college still had not successfully submitted a full application to regain its SACS accreditation.
Without adequate funding to keep the campus buildings up-to-date, facilities on the Madisonville campus deteriorated quickly. In 2017, however, the college announced that it had obtained a $7.7 million United States Department of Agriculture Rural Development Agency loan to remodel its library and a dorm on campus, but had trouble finding a bidder to take the job, delaying the start of the project. Work on the library project finally began in the fall of 2018.
In the spring of 2018, students and some faculty members raised concerns about conditions on campus, meeting with college administration and holding a protest about the issues. At that time, more than 100 members of the student body signed a vote of no confidence against Dr. Tricoli.
Then, in February of this year, The University Senate of the United Methodist Church (UMC) de-listed the college from its list of affiliated institutions due to its lack of SACS accreditation, even though the college said it had begun the process to apply for SACS again. According to Dr. Tricoli, SACS altered their and standards and requirements at their December 2017 meeting, which hampered Hiwassee's application.
"In January of 2018, they published the new standards," she told The Advocate & Democrat. "Our application did not address the new standards because we did not know what changes would be included. It takes two to three years to prepare an application based on standards or principles. We also had personnel changes in areas directly related to application preparation and it took several months to fill those positions."
Hiwassee said it was going to appeal the UMC's decision but just over a week later, the announcement came that the Board of Trustees voted to close the college's doors.
Current soccer coach (men and women's) and shooting coach Eric Best was in San Antonio, Texas, with the shooting team, who was competing in nationals, when the news broke. Best, who obtained his associates degree from Hiwassee in 2014, has been employed with Hiwassee for nearly six years.
"Last year, we had a student riot that called for Robin Tricoli's job and the same board that is closing the doors laughed at our students and told them they didn't know what they were talking about," Best told The Advocate & Democrat. "As an alum, a coach, a friend of these students, these families that are being deeply affected by this, it hurts me. It hurts the coaches. It hurts everyone that had their hearts with this school. The administration at this institution poorly failed our community, our students and us as individuals."
'The nails into the school's coffin'
Best isn't the only one who places the college's downfall on the shoulders of the current administration and Board of Trustees, however.
"Sadly, in the past few years, the leadership at Hiwassee has kept pounding the nails into the school's coffin," said Rhonda Collins, who graduated from the college in 1996. "Back in the day when I went there it was thriving and a vital part of the community. But I'm still proud to say that I have an associate's degree from Hiwassee and I have great memories from my time there."
Former Hiwassee College employee and alumnus Todd Littleton has long alleged that the recent struggles of the college fall on the shoulders of President Tricoli, who became president of the college in 2010,
"It breaks my heart," he told The Advocate & Democrat. "I love Hiwassee College. The two years I spent as a student there were two of the best years of my life. I loved everything about working at the school except for working under her. She has systematically run the school into the ground... That's one of the reasons why I left. I could no longer in good conscience support her."
Littleton, who served as the college's director of development and alumni affairs from 2011 to 2014, said he was not the only staff member who had left under such terms, noting that more than 30 faculty and staff members that he once worked with had made similar decisions to leave or retire since then.
"I don't know how many times I personally witnessed her giving a speech out in public and outright lie about what was going on at Hiwassee and the conditions of the campus," said Littleton. "I understand you have to put a certain spin on things and you can't make people think your situation is dire or you will lose the support of the school. But she would go beyond that. It became a joke."
The former employee alleged that Tricoli "stacked the Board of Trustees with people who have little to no ties to here." Littleton even alleged that in 2015, the board approved a $70,000 renovation to Dr. Tricoli's home despite students living in "deplorable conditions" in the dorms.
"Before she came in as president, the faculty had a voting representative on the board. The student body had a voting representative on the board. The alumni had a voting representative on the board. She was able to get enough votes from the trustees to change the rules and make all of those representatives, the one who are really involved and see what goes on at the school, non-voting members," he said. "They could voice their opinion, but they had no power to vote. It fell on deaf ears."
"She ran off all the people who had ties to the school and cared about the school and replaced them with people who supported her," Littleton alleged. "She ran the school into large debt and the Board of Trustees let it happen."
Dr. Tricoli could not be reached for comments about the closure before press time on Friday.
General Manager & Editor Tommy Millsaps contributed to this article.
This is a developing story. The Advocate & Democrat will continue to report on Hiwassee's closure as new information becomes available.