At first glance, what Rhea County brought to Sweetwater on Tuesday was intimidating.
The Golden Eagles' roster features multiple tall, imposing players that looked to offer a challenge to the Wildcats' interior game. If Sweetwater couldn't find a way to overcome Rhea County's size, how would it be able to hold off the Golden Eagles?
Aaron Littleton and Bryce Johnson made sure that question didn't need to be answered.
The duo showed no fear in the post against Rhea County's big men, with Littleton scoring 15 points and Johnson battling for rebounds and penetration in the paint. Their physical play helped lead the Wildcats to a 50-43 non-district win, its 11th victory of the season.
"I need to be able to expect it (from Littleton)," Sweetwater head boys basketball coach Jeremy Henderson said. "Aaron's a senior and he's capable of a whole lot. You see flashes of it and I'm trying to get him to put it together.
"But he and Bryce Johnson did an excellent job down there with what we did."
Sweetwater (11-2, 3-1 District 5-AA) took a lead early in the game, but a made 3-pointer eventually gave Rhea County (3-10) an 8-6 advantage. The Golden Eagles led 11-8 by the end of the first quarter.
A 3-pointer by Long saw the Wildcats lead 14-13 in the second quarter, but the back-and-forth affair continued throughout the period. A Littleton two-point make at the halftime buzzer gave Sweetwater a 23-15 advantage heading into the locker room.
The Wildcats were able to notch a double-digit lead at 31-21 with 4:38 remaining in the third quarter. The Golden Eagles cut the deficit down to single digits, but Long hit a two-point jump shot right as the period ended, pushing the Wildcats ahead, 35-27.
"Halfway through the third (quarter), brought a couple of subs in, wanted to dial up a little bit of pressure and we just completely busted mentally with what we were trying to do defensively," Henderson said, "and gave up a couple of open threes. That's one of the things I just had a heart-to-heart with these guys about."
Sweetwater led 41-37 with 2:26 to go in the game, and the Wildcats extended that lead to 46-37 by the 1:25 mark. Rhea County didn't lie down, though, as the Golden Eagles fought back and cut the score to 46-43 on a 3-pointer with 51 seconds left on the clock.
Long made one of the biggest plays of the night when he grabbed a key rebound off of a missed Rhea County shot. He was quickly fouled and proceeded to hit both free throws at the line.
Two free throws from Carson Hicks effectively sealed the Wildcats' 50-43 win. Long led the Wildcats in scoring with 16 points, followed by Littleton's 15.
Sweetwater's ability to gain an early lead against Rhea County was critical to the Wildcats' success in what often was a close game.
"We always want to get a good start like that," Henderson said. "If you go back and look, when we start well, we usually end up playing fairly well or getting the job done and getting the win. Tonight was almost the exception."
Although it all amounted to a victory for the Wildcats, Henderson is still looking for more out of his team midway into the regular season.
"Here we are in January and we're still fighting inconsistency, just to be honest," Henderson said. "Never to discount a win. I'm pleased that we got the win. That's a 3A club and everything. But I'm not real pleased with us tonight, just to be honest."
Rhea County 59, Sweetwater girls 31
Into the second quarter on Tuesday, it looked like the Lady Wildcats were on the right track.
After falling behind early, Sweetwater was able to significantly cut into Rhea County's lead, and a Mikalee Martin 3-pointer made it just a five-point deficit.
"After struggling to knock down shots in the first, they battled back in the second quarter by playing tough defense, taking care of the ball and knocking down shots," Sweetwater head girls basketball coach Heather Jaramillo said.
It wasn't to last, though.
Just as the Lady Golden Eagles had quickly carved out an advantage, they rebuilt that lead in similar fashion, retaking strong control and cruising to hand Sweetwater a 59-31 home loss.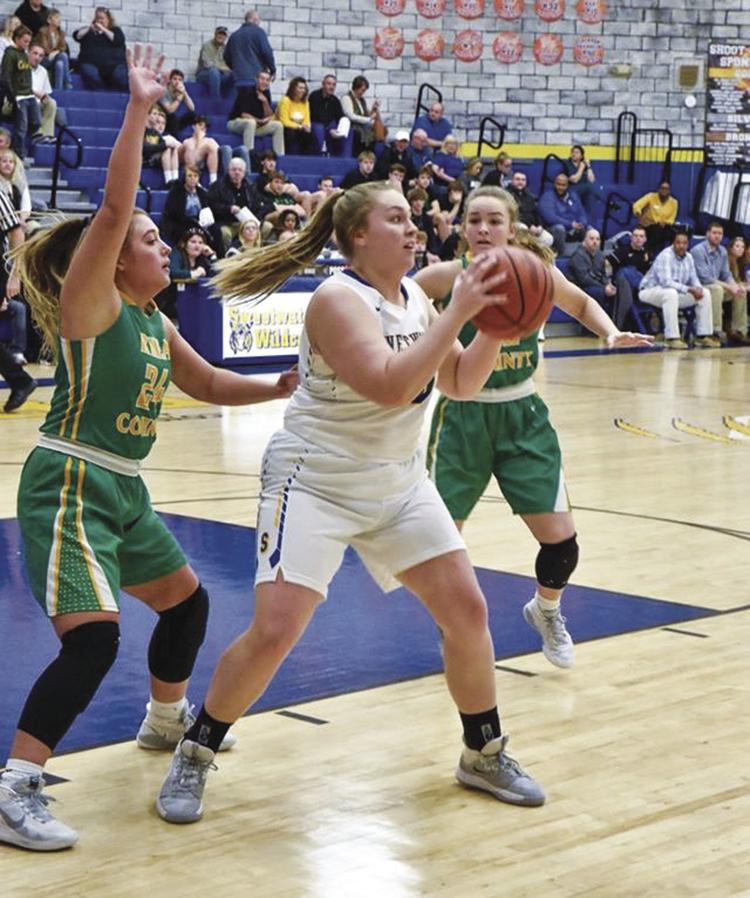 "Rhea County is a good team," Jaramillo said. "They run the floor well and find the open player with quality outside shooters."
Rhea County (12-1) raced out to a 9-2 lead with just over four minutes remaining in the first quarter, and concluded the period ahead, 18-7.
That's when Sweetwater (5-8, 1-3 District 5-AA) made its comeback effort, but it was short lived, and the Lady Golden Eagles led 34-19 at halftime.
It was easy going for Rhea County throughout the rest of the game, with the Lady Golden Eagles ahead 48-24 heading into the final period. Jaramillo emptied her bench during the fourth quarter, allowing reserve players to get valuable experience in the loss.
Martin led the Lady Wildcats in scoring with 11 points, nine of which came on 3-pointers. Gracie Hart and Emily Allen tied for second on the team with eight points each.
"With three games this week I told the team this game is over," Jaramillo said. "We work on the things we didn't execute well and we move on. We don't have time to dwell on this game.
"I am seeing great things from the team in spurts; we just have to find a way to be consistent."