Just days removed from a 68-57 loss to Kingston, its first on the season, the Sweetwater boys basketball team was in need of a rebound win.
The Wildcats got that and more on Friday. Sweetwater defeated McMinn Central 81-64 at home, producing a dominant offensive effort that re-established what this team is capable of.
"Tonight is kind of what I hopefully envision with this group," Sweetwater head boys basketball coach Jeremy Henderson said. "We're not there yet by no means at all. We've got a long ways to go … But you can't complain. These kids have worked extremely hard."
The Wildcats wasted no time in taking control, notching a 14-5 lead with just under 4:00 remaining in the first quarter. Sweetwater led 28-11 at the end of the period.
The Wildcats' offense kept its push going in the second quarter, punctuated by five points, including a 3-pointer, from Carson Kile to take a 44-27 advantage into halftime. Sweetwater allowed 11 points in the third period while racking up 14 itself, with Gibson Alford draining a mid-range shot right before the buzzer sounded to conclude the quarter. The sophomore has been on the rise for Henderson's team so far this season.
"(Alford has) been a little inconsistent just to be honest with you, but … Gibson Alford does not realize how good Gibson Alford can be," Henderson said. "His upside is huge."
And while most team's may let signs of fatigue or even boredom show in the final stages of comfortable wins, there was no evidence of that for Sweetwater on Friday.
The Wildcats scored 23 points, its second-highest quarter mark against the Chargers, to finalize their 81-64 victory.
"We're growing," Henderson said. "We have a long way to go if we're going to compete for this thing. But I thought this was an excellent start to our district schedule against a real good Central team."
Alford and junior Bryce Johnson led Sweetwater in scoring with 14 points each, followed by Austin Long and Aaron Littleton with 11 a piece.
"The game's a lot easier when you're making baskets, right?" Henderson said. "This team has got good shooters. We've got kids that can score the basketball. We just don't know where the points (are) coming (from) night to night … It can work for you. It can work against you."
McMinn Central 51, Sweetwater girls 27
The Lady Wildcats had a tall task ahead of them on Friday.
They hosted a McMinn Central team that is established as one of the area's premier girls basketball programs, one that won the Region 3-AA tournament and lost its sectional game by just two points last season.
And while Sweetwater wasn't able to truly challenge the Chargerettes for the win, losing 51-27, head coach Heather Jaramillo's focus is on the work her team puts in game in and game out.
"My thing is always giving 100% effort and heart," Sweetwater head girls basketball coach Heather Jaramillo said. "You have to get up no matter who you're playing, no matter if it's Sequoyah, Central or Kingston. You literally just have to show up every single night.
"To me, that's the most important thing. No matter who you're playing, you get up for the game."
Two free throws by McMinn Central's Carsi Beaty began the scoring, but it was the Chargerettes' tenacious defense that made the biggest impact, holding Sweetwater to just six points in the first quarter.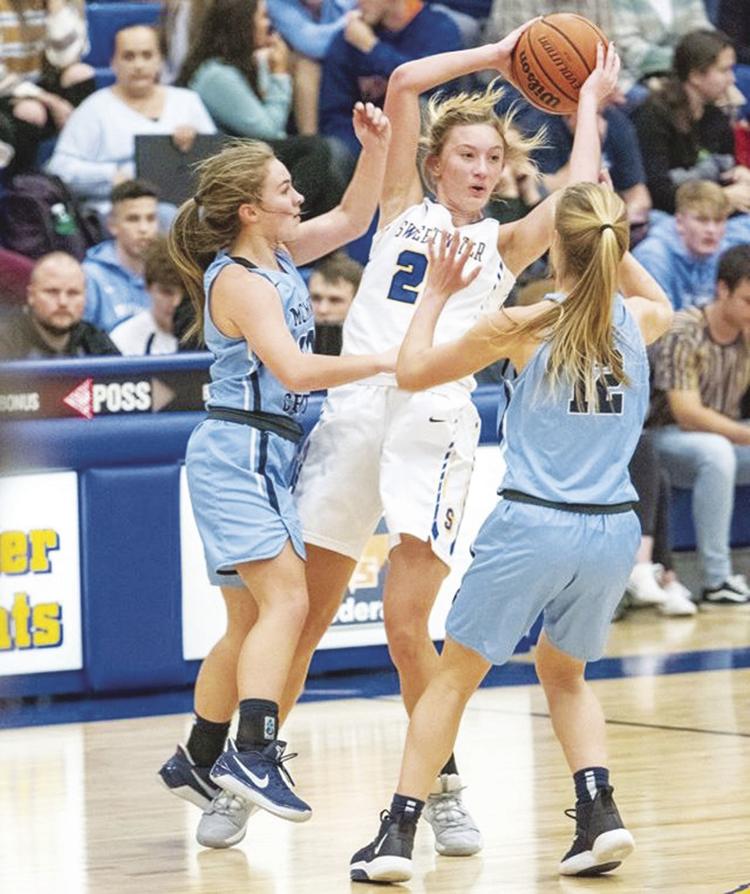 The Lady Wildcats didn't score until 3:34 remained in the first quarter, with Mikalee Martin hitting one of two free throws at the line. McMinn Central led 12-6 at the end of the period.
McMinn Central's offense continually hurt Sweetwater with 3-pointers during the game, helping the Chargerettes lead the Lady Wildcats 28-13 at halftime.
Sweetwater was held to just two total points in the third quarter, still having problems with McMinn Central's tough defense, and trailed 46-16 to start the fourth on its way to the loss.
"All in all, we had 14 turnovers," Jaramillo said. "I think (our players) handled the pressure well. I don't think, in the halfcourt, that we handled, the way they stopped our penetration. I think that slowed us down and we just didn't counteract that."
Martin led Sweetwater in scoring with 12 points, followed by Abbey Barr with seven.
"I'd say a lot of coaches say this, but (we need to work on) consistency," Jaramillo said. "Expecting the same team to show up every night, the one that's going to give it all, who's going to box out, play defense and leave it on the court.
"I can handle a loss when that happens."