And now, the Tennessee Vols are in scramble mode.
BYU's strong run during second overtime crossed the goal line with a push, and the Cougars upset the Vols 29-26 at Neyland Stadium on Saturday, Sept. 7, dooming Tennessee to another agonizing loss and an 0-2 record on the season.
"That was a great football game," Tennessee head coach Jeremy Pruitt said. "We obviously came out on the wrong end of it. It's a tough one to swallow. It's hard to figure out, 'How do you lose that game?'"
The Vols took a 7-0 lead on a tipped-around 5-yard scoring pass from redshirt junior quarterback Jarrett Guarantano to senior Jauan Jennings, with the Cougars responding with a 31-yard field goal.
Tennessee's Brent Cimaglia hit two field goals, from 51 (tying his career long) and 39 yards out, respectively, to push the Vols' advantage to 13-3 by halftime.
The Cougars cut the deficit to just three points with a 16-yard rushing touchdown, but Cimaglia hit a 22-yard field goal, his third make of the game, to give Tennessee a six-point cushion.
A BYU field goal made the score 16-13 at the 7:18 mark in the fourth quarter.
With just seconds remaining in the game, the Cougars connected on a long pass against Tennessee's prevent defense, then kicked a 33-yard field goal to tie the contest and send it into overtime.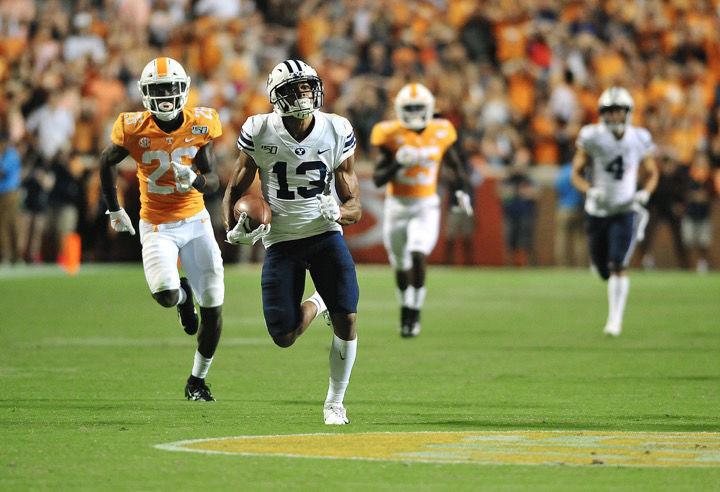 Following a 14-yard BYU touchdown pass, the Vols responded with a 13-yard scoring throw from Guarantano to Jennings, pushing the game into a second overtime period.
But after Cimaglia's fourth field goal, a 40-yarder, the Cougars ultimately won the game with the stunning rushing touchdown.
"When you start thinking about it, there's two fourth-and-one's in the game that we don't get," Pruitt said. "We have two guys running open right before the half for touchdowns that we don't hit. We end up settling for a field goal. We turn the ball over in the red area.
"We don't get a turnover. We've got one turnover in two weeks. And then give up a 70-yard play with 17 seconds left on the clock."
Positives shown, but issues still linger
It may be moot considering Tennessee's 0-2 record and two major upset losses, but the Vols did show some improvement against BYU.
Tennessee's pass rush performed well, with the Vols racking up four total sacks. LaTrell Bumphus, a converted defensive lineman who originally came to Tennessee as a tight end, notched two himself.
"I feel like I did some things good," Bumphus said, "but then I've still got a lot of things to improve on."
The Vols also had more success on the ground than they did last week, as Tennessee picked up 242 total rushing yards.
Ty Chandler had a big game, finishing with 154 yards on 26 carries.
But none of that holds a candle to the major issues still facing the Vols, including defensive woes and inconsistent quarterback play from Guarantano.
"We'll go back," Pruitt said. "We'll coach them up, get them to where we understand the situations better. We've got to execute."
The Vols will host the UT-Chattanooga Mocs, representing another school in the UT System, on Saturday, Sept. 14, for their final game before SEC play kicks off.
The Mocs are 1-1 on the season, having lost to fellow FCS foe Jacksonville State 41-20 on Saturday.
A game that originally would have been viewed as a walk-in-the-park now holds significant weight for the Vols.
Not only is the prospect of Tennessee winning not even a given anymore, but the crowd in Neyland Stadium may reflect the frustrations of a distraught fanbase.
"Message to the fans? I love y'all," Chandler said. "I enjoy y'all. I appreciate y'all coming out to watch us. We need y'all. We need y'all behind us and I want y'all to keep coming out. This team is going to get better.
"We've got 10 games left and I feel like we're going to keep pushing."