There's not much better than running a district opponent off of its own court.
That's exactly what the Sequoyah girls basketball team did on Thursday, as the Lady Chiefs blew out Loudon, 54-22, and improved their standing in District 5-AA.
Sequoyah (5-9, 2-3 District 5-AA) put forth a strong long-distance shooting performance to do away with Loudon (4-9, 0-3). The Lady Chiefs connected on eight total 3-pointers, with Madison Miner, Hanna Carroll and Julie Watson contributing two each.
Loudon led 3-2 for a long stretch during the first quarter, but two free throws from Abbey Borden saw the Lady Chiefs take the advantage. Sequoyah led 7-5 at the end of the quarter.
The Lady Chiefs unleashed a barrage of 3-pointers in the second period, notching a double-digit lead. Loudon was able to get the deficit back down to single-digits, but Sequoyah held a 20-13 advantage at the halftime break.
Sequoyah regained its double-digit lead during the third period and didn't slow down. The Lady Redskins couldn't find any way to get back in the game during the third, after which the Lady Chiefs were ahead 43-21, or in the fourth.
Loudon scored just one point in the final period.
Miner led the Lady Chiefs in scoring with 11 points. Grace Wiggins, Carroll, Watson and Borden all tied for second with six points each.
The 54-22 win is an impressive margin of victory, the type Sequoyah has gotten good at producing when it is in the driver's seat.
Of the Lady Chiefs' five wins, three have been by at least 30 points, and two featured Sequoyah winning by more than a whopping 50 points.
Loudon 49, Sequoyah boys 35
Sequoyah head boys basketball coach Andy Pennington seemed to have two very different takeaways from his team's 49-35 District 5-AA loss to Loudon on Thursday.
He was exceedingly pleased with the job junior big man Jackson Kuberka did against the Redskins (6-7, 1-2 District 5-AA), scoring 17 points while fighting Loudon's lengthy post players inside.
"(Kuberka) dominated the game in the second half," Pennington said. "I should have started doing that in the first half. That was coach's fault. So we learned a little bit there in our zone offense. I don't know what his stats were, but he played like a man.
"He was the best player on the floor, for my part."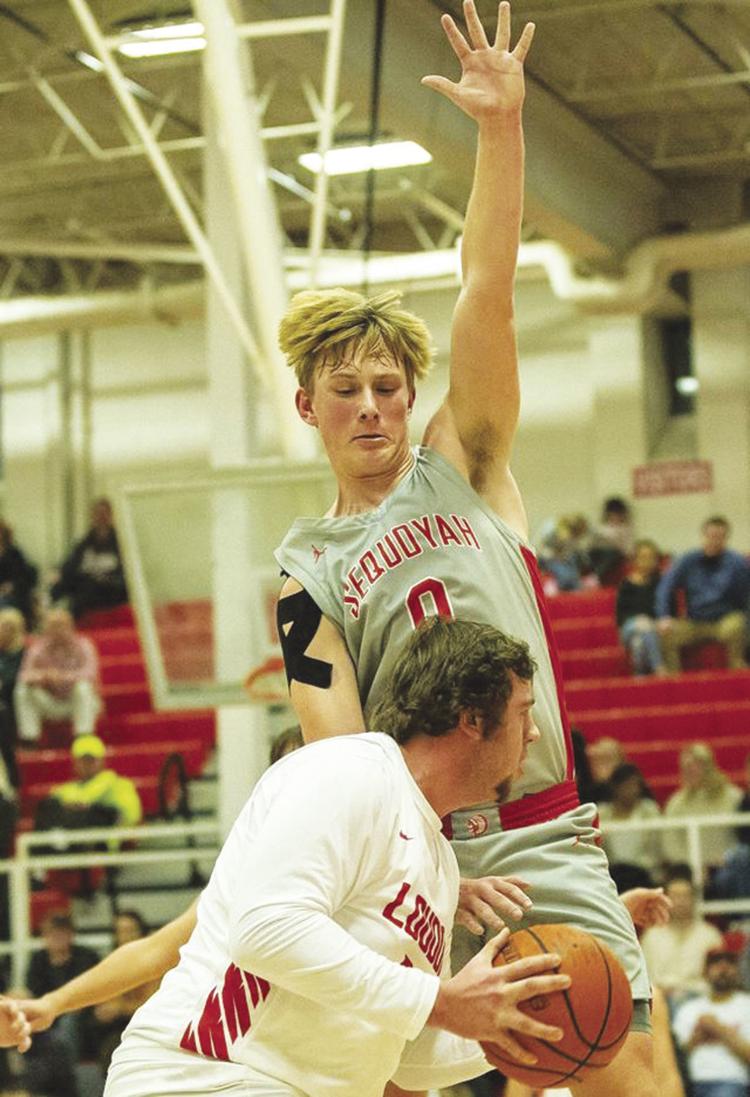 But Pennington was less than happy about what he saw from the Chiefs (6-8, 2-3) overall, as they trailed the entire game and never found an offensive rhythm.
"They weren't ready to play," Pennington said. "Went through the motions. Played a little scared, especially at the end. Tentative. They just weren't ready to play. They can't play like robots. I can't do everything to get them to be ready to play."
The Chiefs didn't score until right under three minutes remaining in the first quarter, when Dillon Stakely nailed a 3-pointer. It was Sequoyah's only points of the period, as Loudon pushed ahead, 9-3.
The offensive woes continued for the Chiefs in the second quarter, and the Redskins took the opportunity to notch a double-digit, 24-11 lead by halftime.
Though Sequoyah didn't stop battling, the Chiefs' ails weren't healed after the break, with Loudon leading 32-20 to start the fourth period.
Kuberka connected on a two-point shot to cut Loudon's lead to single digits with 53 seconds left in the game, but the Chiefs were forced to foul during the remaining time, and ultimately dropped the district contest by a considerable margin.
"I almost think we're too disciplined instead of making plays," Pennington said, "and they're scared to make plays. That's part of the whole process and we're just going to have to get better at it."
Kuberka's 17 points paced Sequoyah, followed by Stakely's six.