The Sequoyah boys basketball team has had its ups and downs this season.
The Chiefs have seen their fair share of successes, but also struggles, as a young team attempts to find its groove as a unit.
One thing is certain, though: Sequoyah knows how to come out on top against county opponents.
The Chiefs did so again on Friday, defeating Tellico Plains 46-38 in an intense, entertaining contest. The two teams entered the fourth quarter tied 30-30 before Sequoyah (7-8, 2-3 District 5-AA) pulled away to win.
"As frustrated as I get with myself and with them, we're scrappy," Sequoyah head boys basketball coach Andy Pennington said. "And a big thing about that scrappiness that I like is we're that every single day. We do not have a bad practice.
"That's going to carry over this year, next year and for a long time because these guys show up. They show up ready to play. They play hard. It showed tonight."
The Chiefs led 9-4 at the end of a defensive first quarter, but a 3-pointer by Kobe Walker pushed the Bears (5-5, 2-2 District 4-A) ahead, 10-9, in the second. Sequoyah regained the lead with successful free throw shooting shorty after.
Dillon Stakely nailed a buzzer-beating 3-pointer to end the first half, something the sharpshooting sophomore seems to do with ease game after game, and the Chiefs took a 21-13 advantage into the locker room.
"(Stakely) puts (the work) in," Pennington said. "But he also has got confidence. He's also got a coach that's been in those shoes before. And I know when a kid's got confidence, I'm going to let him have it. I do not doubt him and his teammates don't doubt him. So we expect it."
The Bears kept fighting in the third quarter and eventually took a 23-22 lead, but a Caleb Sloan 3-pointer tied the game in the final minute of the period.
And the drama of a tied county game wasn't lost on the crowd. The Chop House, packed to the brim by both Sequoyah and Tellico fans, was loud and electric during the timeout between the third and fourth quarters.
Asher Dalton kept the Chiefs in the lead late in the contest with clutch scoring, and Sequoyah led 42-38 with 49 seconds left.
The Chiefs sealed the victory with free throw shooting by Preston Abdulla and Jackson Kuberka, as the Bears were forced to foul in the game's final moments.
Dalton paced the Chiefs with 16 total points, followed by Stakely's 13. Walker led the Bears with 15 points, while Evan Harris was second on the roster with seven.
Walker's scoring included five made 3-pointers.
"I'm just proud of (my players)," Pennington said.
Tellico Plains girls 73, Sequoyah 41
Friday's county girls matchup featured much less tension.
The Lady Bears dominated the Lady Chiefs, 73-41, to keep their undefeated season rolling. Sequoyah's (5-10, 2-3 District 5-AA) offense showed some impressive play, but Tellico's (10-0, 4-0 District 4-A) high-powered attack was ultimately too much to overcome.
"(My players) know each other," Tellico Plains head girls basketball coach Gary Tucker said. "They've played together for several years. They just have good chemistry. The girls get along and they really don't care who scores.
"And I think Kori (Hamilton), the fact that she can score, but she doesn't care to pass the ball and get our offense started. I just think that they like to share the ball as well as they do (to) score. All of them."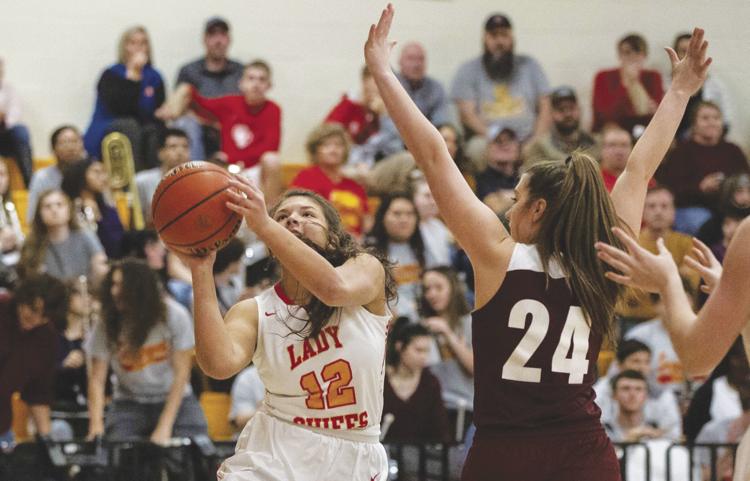 Tellico started fast on Friday, with Joell Stinnett scoring seconds after the opening tip. The Lady Bears' defense also did its job, pressuring Sequoyah's players and forcing multiple turnovers.
The Lady Chiefs, though, found more offensive success late in the first quarter, which concluded with Tellico on top, 18-11.
The Lady Bears went on a big run during the second quarter, with their offense clicking and defense not allowing many scoring opportunities, to hold a commanding 37-18 advantage by halftime.
That trend didn't change in the second half, as the Lady Bears led 57-29 to start the fourth quarter.
Five Tellico players scored in double figures: Kori Hamilton (15), Chloe Ratledge (15), Jaden Hollinghead (11), Maggie Hooper (10) and Stinnett (10).
Jesee Weese led Sequoyah in scoring with nine points, followed by Madison Miner and Abbey Borden with eight each.
"We can be better," Tucker said. "I think right now our advantage is we can score at every position. That's a blessing. It all reverts back to their hard work and skillset."