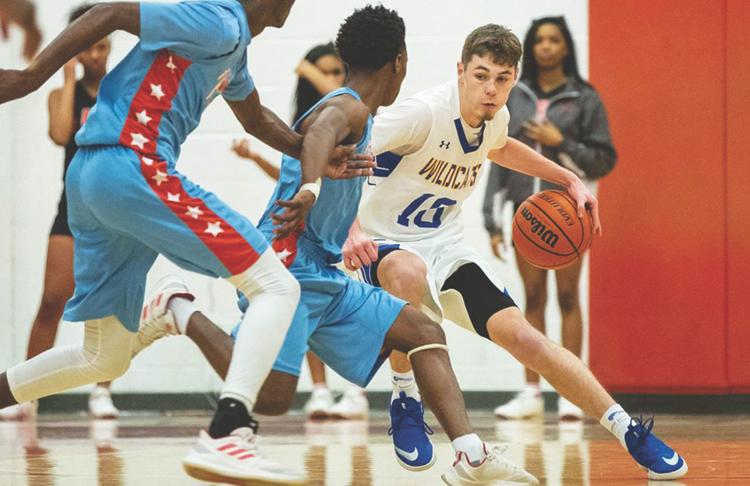 Jeremy Henderson, just a child, saw it firsthand.
He witnessed the energy, excitement and passion of a sports town rallying around a successful basketball program. It affected the way he saw, and still sees, his home.
"From me remembering some of those strong Sweetwater teams back in the '90s that I got to watch as a kid, I've always viewed Sweetwater as a special place," Henderson said. "That community got behind these kids … thankful to be a part of something like that, part of a program, community like Sweetwater."
This past basketball season, the memories came back to life.
"One thing I will always remember about this last season was that gym was packed night in and night out," Henderson said. "The community was just exceptional."
The Wildcats won 28 games and lost just three in 2018-19, making it to the Region 3-AA semifinals and recording one of the most prolific basketball campaigns in Monroe County history.
What led to Sweetwater's huge run? Henderson, who just completed his first season as the Wildcats' head coach, has an idea.
"It's players buying in to a first-year coach," Henderson said.
Those players were headlined by senior standouts Dominique Oggs, Matthew Kile and Kolbe Billingsley. Oggs was named Third-Team All-State and finished his career with almost 1,600 total points, while Billingsley was in the 1,300-1,400 range and Kile was "just a little bit more than 20 points away from the 1,000-point club himself."
All three players signed with Tennessee Wesleyan this offseason to continue their playing careers in college.
Henderson, who was an assistant at Sequoyah for three years, moved to Sweetwater and was on staff there before taking over as head coach when Brent Burns left for Lenoir City, said that teams all across the schedule did whatever they could to stop Sweetwater's seniors.
For the most part, it didn't work.
"We faced every defense you could possibly imagine … some defenses you've probably never even seen, junk defenses, just trying to slow down, I call them the 'trio,' the three seniors that we had that are advancing on to college to play," Henderson said.
But it wasn't just the team's stat leaders, or even just the ones that saw time on the floor, that led the Wildcats to their amazing season.
"This team was special not just because of those three (seniors)," Henderson said. "This team, they bought into their roles. They didn't try to do too much. They did what they were asked to do."
The motivation behind that?
"These kids got what they got because they bought in and they committed to something greater than themselves," Henderson said. "On the back of our shooting jerseys was 'brotherhood.' This was the most special group of kids that I've seen as far as … you hear a lot of teams talk about family this, family that.
"This group of kids was a true family."
Henderson thinks that last year's team, one that featured Meechie Oggs, Dominique's brother and a player Henderson described as a bruiser with the skills of a guard, was potentially even more talented than this year's group.
But the 2018-19 Wildcats found success with a team-focused approach, one that had no room for thoughts about individuality.
"You have three kids (Oggs, Kile, Billingsley) that can play like that, you've got to put your egos to the side," Henderson said. "And (put) your individual stuff to the side."
"That's kind of rare," Henderson added, "because you get kids that can score like that, they start worrying about their stat lines and themselves. These kids weren't like that at all. These kids did whatever was asked of them on a nightly basis … They were truly selfless, did whatever was best for the team on a night-to-night basis."
And the Wildcats didn't just put in work on the court; Sweetwater as a program finished with a 3.6 team GPA.
Henderson is just as proud of that stat as he is of those his team notched during every game.
"That's 15 student athletes that took care of the student part more than the athlete," Henderson said, "which is one of the big things we sell is, 'Hey, you're a student before you're an athlete.' I don't care how good you are. You can't go to college and play if you don't take care of the academic work first."
The Wildcats even went to church together several times during the season, and Henderson believes that this team's discipline, culture and work ethic laid a strong foundation for the program.
"The only regret that I have is I just wish these kids would have gotten to experience the state tournament," Henderson said. "Because I felt like they truly, truly earned that."
That doesn't dull the shine of the year and everything the Wildcats accomplished, though.
"They were all about Sweetwater," Henderson said. "Not themselves. They were about Sweetwater and representing the school and the community to the best that they could."
"I'll honestly remember this team right here for the rest of my life," Henderson added. "Just a special group of kids."
Personnel changes, but expectations don't
The Wildcats recently finished up their summer camp schedule and are currently taking a break due to the mandatory TSSAA dead period, which runs from June 23 to July 6.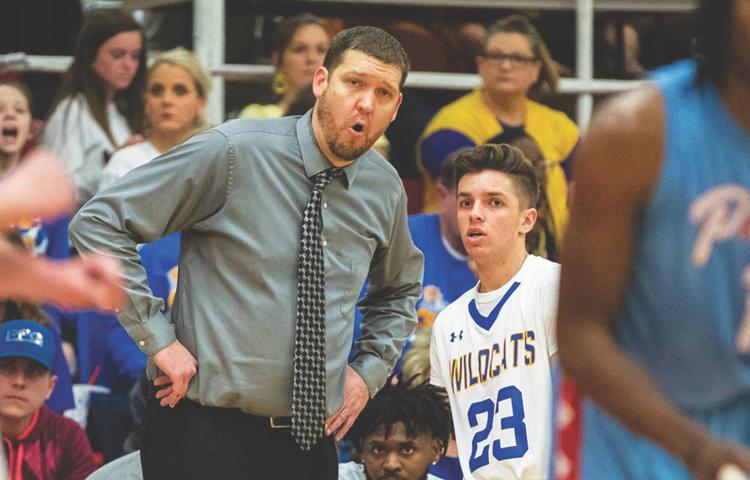 "I've got a mixed review on the summer from what I saw," Henderson said. "Sometimes I was very pleased. Sometimes not quite where we need to be."
Once the team is allowed to get back together, Sweetwater will work in the weight room as well as make use of open gym time.
The roster and on-court product might look very different during the 2019-20 season than what it was this past year, as the Wildcats lost a huge amount of talent and depth to graduation.
However, Sweetwater adds a potential difference-maker in Drew Hicks, who joins the roster for the upcoming season. Hicks, a former Wildcat, left for Knoxville Catholic before recently transferring back to Sweetwater High School.
Henderson also isn't overly concerned about the change in personnel, as he doesn't run any particular system. His schemes are based on the players he has, which is ideal for a situation like this.
It will be tough to follow a group that won 90% of its games, a feat Henderson estimates hasn't been done in Monroe County since the year Sweetwater last won the state tournament in the early to mid 1990s.
"It's been over 25 years since anybody has had a record like these kids did," Henderson said.
But he and his Wildcats aren't looking behind them.
After a season that defied the odds, Sweetwater is only looking ahead.
"I hear all the time, I don't think anybody expects us to do very much next year," Henderson said. "Because all I keep hearing is, 'You lost those three seniors. Y'all are going to be down.'
"That's not our expectations. That will never be the expectation as long as I coach at Sweetwater High School."